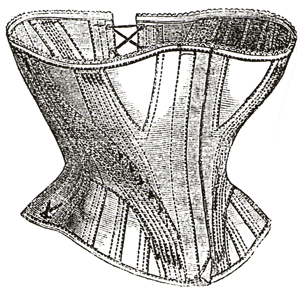 There were a shocking number of women – and men – in red silk corsets at Sunday night's Litquake fundraiser. The theme was "Dirty Words: An Evening of Smut" and many participants dressed in the spirit of the evening.
The Twilight Vixen Revue – a group of four queer women who dance burlesque – started out the evening by modeling fashions by Stormy Leather, the place to go for all your dominatrix needs. This was sexual titillation at its most refined –beautiful women wearing leather corsets, silk underwear, and high heels. One even wore a mask and carried a whip.
The emcee for the evening, Kirk Read, got into the spirit as well, with black leather pants that showcased a large brass zipper from front to back. His red silk bustier (named the Sergeant Corset, retail price $365.95) had a masculine, military touch – a few rings and buckles that can be put to some other erotic use.
But the real focus of the evening was words – Dirty Words. The organizers got the title for the fundraiser from the new anthology edited by Ellen Sussman, and many of the contributors read their pieces.
The scope of the dirty words were surprising. Did you know James Joyce was a dirty old man? Well, I guess the censors of the time did, since Ulysses was banned for obscenity in the United States and the United Kingdom in the 1920s. Alan Black, the author of the memoir Kick the Balls, read, in his delightful Scottish burr, a 1909 letter Joyce wrote to his wife and muse, Nora Gallagher Joyce. It can't be repeated here but I will say that Joyce was remembering certain intimate acts with Nora and encouraged her to be even dirtier. I swear he used that word over and over again.
Michelle Richmond, the author of the newly-released No One You Know, dressed demurely in a blue denim scoop-necked dress. She gave her proclivities away, though, by wearing red, open toe high heel shoes. "Whenever I read about sex I feel compelled to dress like I am on the way to Sunday school," Michelle told the crowd. "Whatever I know about sex I learned on the Baptist Youth bus in Tennessee."
Stephen Elliot read an excerpt from his new memoir, The Adderall Diary. While it is definitely a Stephen Elliot book – he read a scene where he went to a bondage spot and was videotaped as a submissive bottom – the book apparently also explores the murders that have tangentially touched Elliot's life. He shared some girlfriends with a man named Sean Sturgeon, the one-time best friend of self-professed wife killer Hans Reiser. Sturgeon at one point confessed to killing eight people – a lie, as it turned out. Unfortunately, Reiser did kill his wife, Nina, who had left her husband for Sturgeon. Elliot touches on all these complicated relationships in an article in Salon, but they didn't really come into play during his reading, which was characteristically funny and uncomfortable for those into vanilla sexual practices.
The fun went on. Kim Addonizio read her piece from the Dirty Words anthology. I never knew necrophilia could be so funny. Helena Echlin's demure British accent made her lusty words somehow more respectably lusty. Daniel Handler ended the evening by reading from his 2000 novel, Watch Your Mouth. Dressed in a brown suit with white shirt in tie, his brown crew cut graying slightly, Handler's appearance was incongruent with the descriptions of sex and mirrors and incest coming from his mouth.
There are lots of wonderful writer organizations in the Bay Area – The Grotto, 826 Valencia, Redroom.com. Writing Wild Women, North 24th Writers (my writing group.) But no organization brings the community together like Litquake. Every year the group puts on a fabulous literary festival, once that is inclusive and daring. It creates an environment that showcases established and up and coming authors. And this year Litquake plans to have an open mike during its LitCrawl, which makes it that much more democratic. See you there in early October.